Products tagged with 'stock car racing'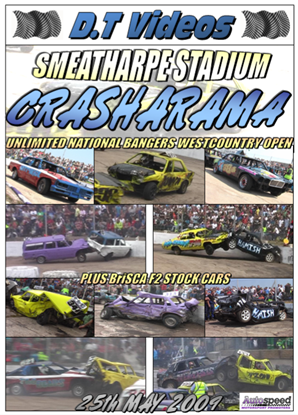 CRASHARAMA XI the West country open for Unlimited National Bangers hit Smeatharpe Stadium in a big way on the 25th May 2009 with over 70 drivers turning up to do battle on the West country's centre stage. Big Cars Big names Big Action with the Bears, Posh Wash, Midnight Runners, Renegades, Rednecks, Colour Purple and many more teams and top national drivers this was going to be a lively affair! None more so than top highlights such as 521 Ash Riley's destructive wrecking performance with big hits on 384 Goldie and 341 Jonesey, Posh Wash duo 341 Jonesey and 714 No Show lively pulling off several big crashes throughout the day, 989 Dean Arm taking on the Midnight Runners, 747 Liam Martins follow in heat 1 on 6 Gun rack, 239 Nemesis simply stunning shot on 133 Werzal in the all-comers and many many more crashes throughout the day which all feature on this bumper DVD. This DVD has specially edited intro sequence with pit footage the parade with close ups of the top cars in action on the day, all the races in full with multi cameras and highlights sections after each race, on board camera footage with none more than 4 pilots 190 Pikey, 199 Bona, 239 Nemesis and 714 No Show and then a highlights sequence of the days best action! After this entire feature the BriSCA F2 which has an excellent Grand National event to round off the 2 disc DVD!
Official race DVD production of the last ever Autospeed meeting held at St Columb's Retallack Park on Tuesday 7th July 2009 with a Big Night for Big Bangers also including BriSCA F2 Stock Cars WQR & Ministox. 2 camera edit plus fence cameras and in car footage. Live race commentary and various highlights reels.